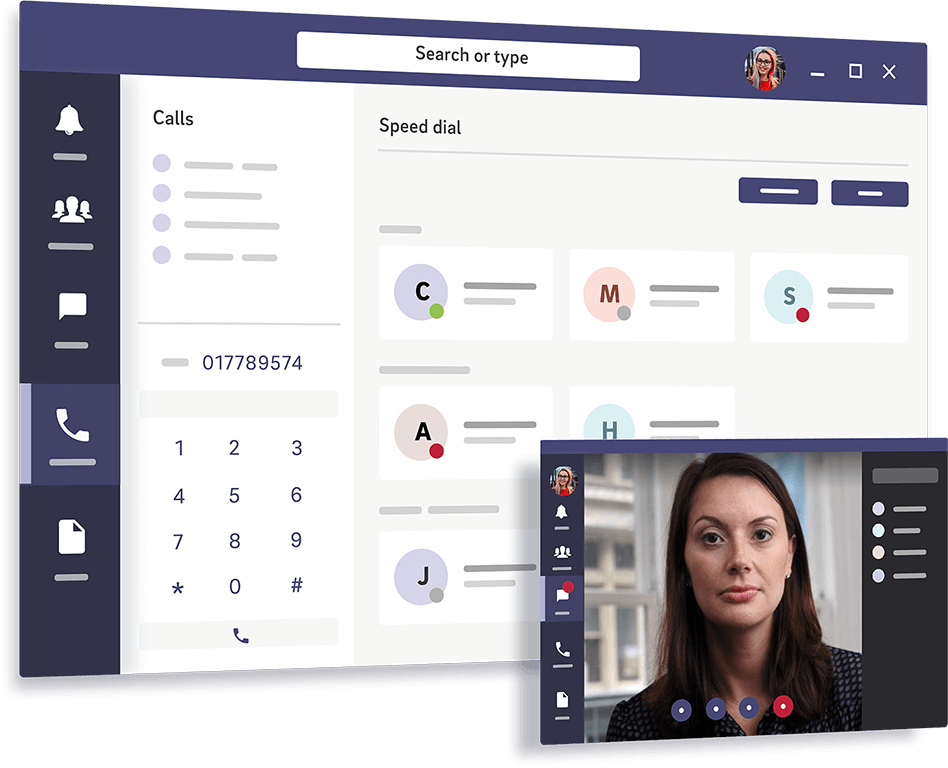 Profit from new ways of working
Microsoft Teams is the workspace solution that brings people together easily to enable natural team working. And now, with Nvoice for Microsoft Teams, businesses can extract significantly more value from Microsoft Teams. Nvoice for Microsoft Teams leverages the enterprise PBX features of Cloudya – NFON's best ever cloud telephone system – to create a completely unified communications solution.
Users of Microsoft Teams can make calls via Microsoft Phone System, but it has a number of limitations. Building on our experience with Nvoice for Skype for Business, NFON have overcome these drawbacks with Nvoice for Microsoft Teams.
The Nvoice for Teams advantage

If you use Office 365, you're most likely using Microsoft Teams as your workspace solution. 
It brings your business together easily and enables natural teamworking. But what if you could do even more through Microsoft Teams?
It has often been said that technology is an enabler – setting people and organisations free to improve what they do and how they do it. But for every business liberated by technology, another experiences inertia. Time gained versus time lost. Money saved versus money wasted. Opportunities taken versus opportunities missed. Winners versus losers.
The way we work is changing.
Instead of single-site workplaces or a fixed set of locations, employees are increasingly dispersed across the country or even the world. Working efficiently regardless of location is now key. Employees need to access whoever they need to work with, whenever they need to get together, from anywhere in the world and via whatever their preferred platforms.
Businesses now need the right tools to ensure effective collaboration and positive productivity, as well as an always-on, first-class experience for customers.
To help you choose the right unified communications solution, this document outlines the most common user profiles in the modern workplace – identifying their communication challenges and how to overcome them
Achieve more with new ways of working
To help you choose the right unified communications solution, the videos below outlines the most common user profiles in the modern workplace – identifying their communication challenges and how to overcome them.
How to choose the right cloud telephony solution to integrate with Microsoft Teams
You depend on your phone system every minute of every day – ensuring your people stay in touch, your projects are delivered on time and your customers enjoy great experiences.
Freeing your business from the limitations of traditional, office-based phone systems, the right cloud telephone system increases your flexibility and productivity without the need for large capital investment. There are numerous solutions available, offering different levels of functionality, flexibility, management complexity and resilience. So how do you know which one is right for you?
Use this checklist to ensure the cloud telephony solution you choose meets all your needs and strengthens your business.
We all want to do more. Now you can!
More productive collaboration
Wouldn't you like to use Microsoft Teams as your single solution for enterprise-quality business communications?
Nvoice for Microsoft Teams uses Microsoft's direct routing solution to enable PSTN services from within Microsoft Teams. Your people get a true enterprise voice solution – with a host of intelligent telephony features – within the familiar Microsoft environment, accessible from any location and any device. It means better collaboration and improved productivity.
More cost efficiencies
Wouldn't you like a flexible, unified communications solution that's more cost-efficient?
Just like Office 365, Nvoice for Microsoft Teams is a subscription-based service. Because it's a cloud telephony solution, your people can access enterprise-class telephony features from their mobile device or PC. No longer any need for desk phones. A reduction in admin costs. You can even have a hybrid environment, where some users utilise Microsoft Teams and others utilise NFON's Cloudya telephone system. Whatever suits, you only pay for what you need.
More certainty
Wouldn't you like the peace of mind of built in business continuity?
Nvoice for Microsoft Teams gives you the reassurance of a reliable cloud telephony solution with automatic fail over to keep your comms up and running. Any issues with Microsoft Phone System or Microsoft Teams, simply fail over to NFON's best ever cloud telephone system, Cloudya. It's built on fully redundant architecture that includes highly secure, geo-redundant EU data centres.